'Creek Bed'
California, USA
Psychic Photography Experiment - 1*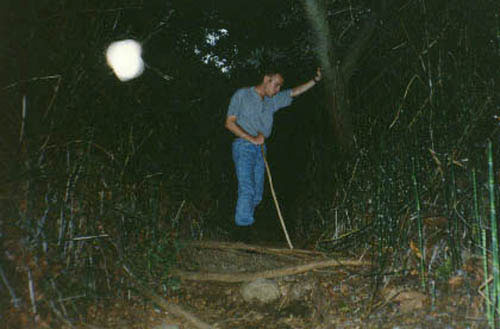 4

Photo © 1999 Brian Milburn

August 1999
Brian Milburn (Solo Meditation)

Above, is an example of an 'oscillating' luminosity
photographed at a mountain trail 'leyline vortices' that Ed and Kris Sherwood
call the Creek Bed.

The photograph was taken by Brian Milburn using an automatic 35mm
camera during a Prayer and Psychic Photography experiment
held at the 'center' of the 'subtle energy vortex'.

Photo 4 shows a large single 'fully materialized' rapidly oscillating 'light ball'
recorded by the camera set on a 10 second timer, as Brian mentally 'connects'
with the site.
* * *
Copyright ã 2001-2009 Ed & Kris Sherwood
CropCircleAnswers.com
All Rights Reserved
Please make any inquiries to:
millennium9@earthlink.net