Stonehenge Crop Circle Formation
Wiltshire, England
Psychic Photography Experiment - 1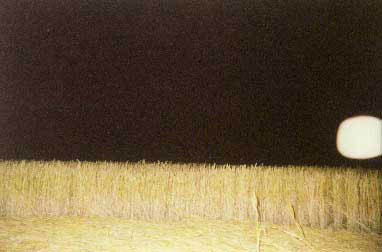 2d

Photo © 2000 Ed Sherwood/Millennium Research

July 20th 2000
Participants: Ed Sherwood, Ron Jagger, & Wayne Kilbourne

Above, is an example of one of the luminosities seen
and photographed inside the West Amesbury/Stonehenge
crop circle formation reported July 18th 2000.

The photograph was taken by Ed Sherwood using an automatic 35mm camera
minutes after a group 'Leyline Activation' and 'Earth Healing' visualization meditation inside the largest circle.

Photo 2d shows a large bright light ball close to the camera
(perhaps slightly distorted by the camera lens),
recorded near the edge of the formation.



* * *
Copyright ã 2001-2009 Ed & Kris Sherwood
CropCircleAnswers.com
All Rights Reserved
Please make any inquiries to:
millennium9@earthlink.net