Internationally known Crop Circle investigators,
Ed and Kris Sherwood have disseminated their
research widely, through:



Click a video option below to hear & view the CNN interview.
View in MOV Format - 3.66 MB
View in RAM Format - 2.53 MB

Television interviews for International, National
and Regional News programs, and documentaries,
(including for CNN, The Travel Channel, The Discovery Channel, The Learning Channel, The Sci-Fi Channel, Inside Edition, LA Channel 4 News, Nippon Television, & The BBC);

Radio programs (with Art Bell, Hilly Rose, Barbara Simpson, George Noory,
Jeff Rense, Linda Howe, Dave Barratt, and many others);




Video documentaries (including The History Channel series 'Histories Mysteries', TLC's 'Crop Circles: In Search of a Sign', and New Land Film's 'CircleSpeak');




Articles and in-depth Reports, detailing field research, discoveries, observations and experiences, self-published, and disseminated to internationally distributed Magazines (including 'UFO Magazine' UK, discontinued in 2004, and 'Nexus' Magazine), and Journals (including 'The Cereologist', also discontinued in 2004, and 'The Circular'); and ….




Slide presentations, annually, either or both, in the UK and US, including filmed and taped Conference appearances,
including the Annual International UFO Congress Convention
(1998, 2001 & 2004), MUFON LA (2002), the UK CCCS Conference (1998 & 2001), and The Glastonbury Symposium (1998, 1999, & 2003).
What is Millennium Research?

Photo © 1999 David Mitchell
Millennium Research is the name of a multi-media project we (Ed & Kris Sherwood) created to archive and share our more than 40 combined years of 'Crop Circle' and related phenomena research.

After many years of independent Crop Circle research (I began in 1984, and Kris in 1991) we met and married in 1995, pooling our resources from that moment on to co-found Millennium Research in January 1996.
Why did we choose the name CropCircleAnswers.com for our web site?
We chose CropCircleAnswers.com because we view non-manmade Crop Circle formations themselves as "answers" to questions that we, and many other people, have asked during more than two decades of Crop Circle research. We also wish to offer, from our experience and research, "answers" that we and others have received and found while investigating what has been in our experience and view a highly 'psycho-interactive', psycho-reflective, 'co-creative', psychokinetic, natural and supernatural, psycho-spiritual phenomenon.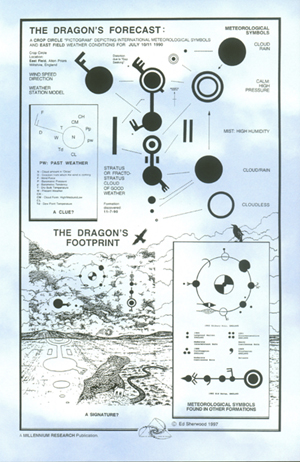 Read Ed's original article "Let Us Remember Dragons"

When complete this site will include the in depth decoding of more than 150 non-manmade Crop Circle 'pictograms'; extensive Crop Circle 'luminosity' research, presenting compelling photographic evidence of a luminous phenomenon and energy associated with Crop Circle creation; Crop Circle science; theories; links; and information on related parapsychological phenomena.

Scientific Research into the Worldwide Crop Circle phenomenon:

Kris and I support a scientific approach to studying the Crop Circle phenomenon and the scientific research that has been done.

Here are some of the most comprehensive 'Crop Circle Science' Links currently on the Internet:

A Sampling of Dr. W.C. Levengood's Crop Circle Biophysical Research

ACQUIFER RESEARCH: "The Underground Connection."

J. Marshall Dudley & Michael Chorost Radionuclides in 1991 Formation report