Crop Circle Field Report Highlights
Every summer since 1990 (with the exception of 1996)
Ed Sherwood has conducted on-site Crop Circle research in England.
In July 1995 Kris Weber (soon to be Kris Sherwood) traveled from Santa Monica
in California to Wiltshire England to also begin Crop Circle field research, after having followed
the subject closely since 1991. That summer we met, and from that meeting on have chronicled
our activities, experiences and observations into a detailed report.
Here are some of the highlights of one research trip (with more to follow):
Crop Circle Field Report 2001 Highlights
Ed travels to the 'Vale of Pewsey' in Wiltshire England to conduct a series
of 'Co-creative' solo and group 'Leyline Activation' and 'Earth Healing' meditations, 'Psychic Photography' experiments, and filmed discreet 'UFO night watches', at and near some
of the major ancient sacred sites of southern England, with some surprising and dramatic results.
Crop Circle Formation Reports
Below is a selection of individual Crop Circle Formation Reports
extracted from more complete reports currently in progress.

Silhouette Drawing © 2002 Ed Sherwood/Millennium Research
Pittston, Maine, USA
Reported August 4, 2002

Silhouette Drawing © 2001 Ed Sherwood/Millennium Research
'Gog Magog' Hills, Cambridgeshire, England
Reported July 25th 2001

Silhouette Drawing © 1998 Peter Sorensen
Roundway, Wiltshire, England
Reported July 8th1998
Silhouette Drawing © 2004 Ed Sherwood
Silbury Hill, Wiltshire, England
Reported July 23rd 1997
Silhouette Drawing © 1996 Peter Sorensen
Windmill Hill, Wiltshire, England
Reported July 29th 1996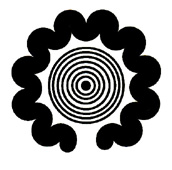 Silhouette Drawing © 1995 Peter Sorensen

Litchfield, Hampshire, England
Reported July 7th 1995
Silhouette Drawing © 1994 Wolfgang Schindler

Roundway, Wiltshire, England
Reported July 24th 1994

Silhouette Drawing © 1992 Ed Sherwood
Roundway, Wiltshire, England
Reported July 23rd 1992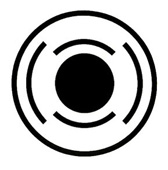 Silhouette Drawing © 1997 Ed Sherwood/Millennium Research

Chilcomb, Wiltshire, England
Reported June 6th 1990
* * *
Copyright 2001-2016 Ed & Kris Sherwood
CropCircleAnswers.com
All Rights Reserved
Please make any inquiries to:
millennium9@earthlink.net