'Two Trees'
California, USA
Psychic Photography Experiment - 7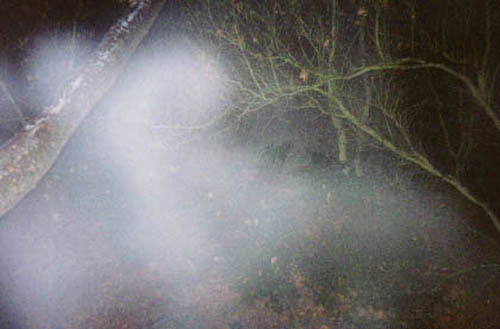 13

Photo © 2000 Ed Sherwood/Millennium Research

December 31st 1999
Participants: Ed & Kris Sherwood

Above, is an example of 'luminous mist',
a form of 'Chi' energy, that was seen and photographed
at a mountain trail 'leyline vortex' that Ed and Kris Sherwood
call the Two Trees.

The photograph was taken by Ed Sherwood using an automatic 35mm
camera within moments of arriving at the site.

Photo 13 shows luminous energy in motion within feet of the 'center'
of the vortex approximately 30 minutes after completing a 'Leyline Activation'
and 'Earth Healing' meditation at another site nearby.
* * *
Copyright ã 2001-2009 Ed & Kris Sherwood
CropCircleAnswers.com
All Rights Reserved
Please make any inquiries to:
millennium9@earthlink.net