'Fallen Stone'
California, USA
Psychic Photography Experiment - 65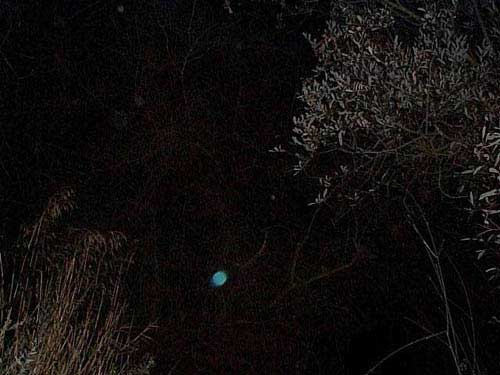 16

Photo © 2000 Ed Sherwood/Millennium Research

September 21st 2000
Participants: Ed & Kris Sherwood, Roger Hill & Jay Bluem

Above, is an example of one of the 'light balls' seen and photographed
at a mountain trail 'leyline vortices' that Ed and Kris Sherwood call the 'Fallen Stone'.

The photograph was taken by Ed Sherwood using a digital camera
aimed at the spot where Jay Bluem, about an hour earlier,
had said she had seen "blue balls of light coming out of Ed".

Photo 16 shows a single 'turquoise blue' light ball recorded at the very spot where Jay
had described seeing blue light balls.

Interestingly, after several hundred Psychic Photography
experiments conducted in the U.S. and U.K., and thousands
of photographs taken prior to the one above (using the same digital camera),
it was the first time Ed and Kris had recorded a blue light ball!
* * *
Copyright ã 2001-2009 Ed & Kris Sherwood
CropCircleAnswers.com
All Rights Reserved
Please make any inquiries to:
millennium9@earthlink.net