'Roots'
California, USA
Psychic Photography Experiment - 8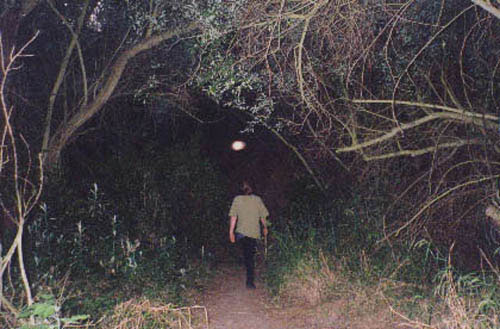 2

Photo © 1999 Brian Milburn

June 14th 1999
Participants: Ed Sherwood & Brian Milburn

Above, is an example of a light ball 'felt' and photographed
near a mountain trail 'leyline vortices' that Ed and Kris Sherwood
call the 'Roots'.

The photograph was taken by Brian Milburn using a simple 'point and shoot'
35mm camera aimed at Ed as he approached the site located
about fifteen feet further down the trail.

Photo 2 shows a single 'fully materialized' moving light ball
accompanying Ed as he nears the subtle energy vortices.
Though not seen at the time, Ed reported sensing the sudden 'presence'
of the luminosity near him as he approached the site.
* * *
Copyright ã 2001-2009 Ed & Kris Sherwood
CropCircleAnswers.com
All Rights Reserved
Please make any inquiries to:
millennium9@earthlink.net