Swanborough Tump
Wiltshire, England
Psychic Photography Experiment - 4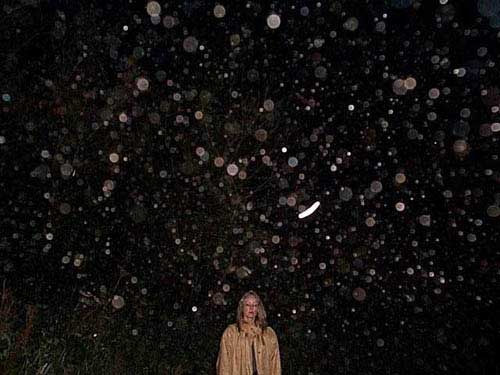 12b

Photo © 2000 Ed Sherwood/Millennium Research
July 30th 2000
Participants: Ed & Kris Sherwood

Above, is an example of a light ball cluster seen and photographed
at the site of an ancient sacred round mound no longer visible
in the landscape.
The photograph was taken by Ed Sherwood using a digital camera
within approximately ten minutes of arriving at the site.
Photo 12b shows light balls clustering above Kris, including a bright luminosity
with 'motion blur' (i.e.: a light ball moving faster than the cameras 'shutter' speed)
during a short 'light ball' visualization meditation intended to psycho-kinetically stimulate
the 'Chi' of the site. Kris is meditating at the spot where the ancient
sacred site use to be.

The weather conditions at the time included a clear sky, no wind,
no precipitation, cool temperature and low humidity.
* * *
Copyright ã 2001-2009 Ed & Kris Sherwood
CropCircleAnswers.com
All Rights Reserved
Please make any inquiries to:
millennium9@earthlink.net