Lake Site
California, USA
Psychic Photography Experiment - 1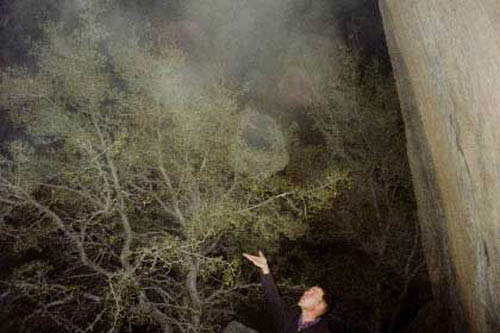 5c

Photo © 1999 Ed Sherwood/Millennium Research

December 18th 1999
Participants: Ed Sherwood & Brian Milburn

Above, is an example of 'luminous mist', a form of 'Chi' energy,
that was seen and photographed at a lake rock site considered sacred
to the local Native Americans.

The photograph was taken by Ed Sherwood using an automatic 35mm camera
immediately after a 'Leyline Activation' and 'Earth Healing' visualization
meditation at the site.

Photo 5c shows Luminous Mist transforming into a distinct shape
within feet of the meditation site and directly above a spot where a large
spearhead had been unearthed in the past.

Ed informed Brian of its new position (to the right of 5b) which Brian
then playfully framed.
* * *
Copyright ã 2001-2009 Ed & Kris Sherwood
CropCircleAnswers.com
All Rights Reserved
Please make any inquiries to:
millennium9@earthlink.net