Cave Site
California, USA
Psychic Photography Experiment - 13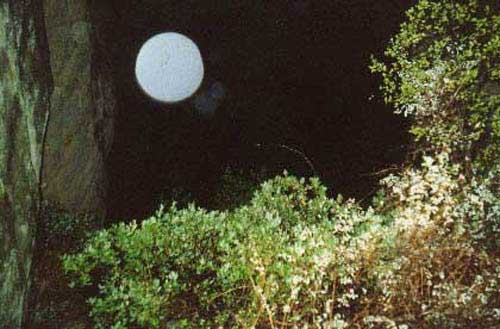 6

Photo © 2000 Ed Sherwood/Millennium Research

September 22nd 2000
Participants: Ed Sherwood & David Mitchell

Above, is an example of some of the light balls seen and photographed
at a cave site considered sacred to the local Native Americans.

The photograph was taken by Ed Sherwood using an automatic 35mm camera
within a few minutes of completing a 'Leyline Activation' and 'Earth Healing' meditation
inside the cave.

Photo 6 shows a large single almost 'fully materialized' light ball with surface detail
photographed after Ed had sensed the 'presence' of subtle energy
close to the cave.
* * *
Copyright ã 2001-2009 Ed & Kris Sherwood
CropCircleAnswers.com
All Rights Reserved
Please make any inquiries to:
millennium9@earthlink.net