Eiffel Tower
Paris , France
Psychic Photography Experiment - 1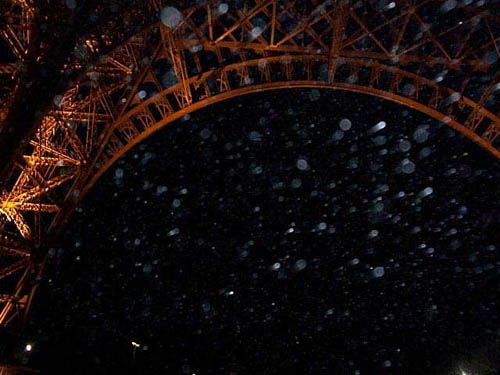 1

Photo © 2000 Ed Sherwood/Millennium Research

July 28th 2000
Participants: Ed & Kris Sherwood

Above, is an example of some of the luminosities
seen and photographed beneath the main arches of the Eiffel Tower.

The photograph was taken by Ed Sherwood using a digital camera
within approximately five minutes of arriving at the tower.

Photo 1 shows clustering light balls,
including stationary and moving luminosities with 'motion blur'.

Considering the size, material and shape of the Eiffel Tower,
as well as its geophysical and geomantic setting, it is perhaps
not surprising that it might be, under certain conditions, a potential 'attractor'
of 'subtle' and physical energies, including the 'transmitted' Psychokinetic energy
and effect of the many peoples consciousness visiting the site!

Most of the digital photographs taken below the tower
were void of luminosities. Those recorded were only
where, and when, Ed 'sensed' and said they would be.

There was no precipitation at the time and no perceptible wind.
* * *
Copyright ã 2001-2009 Ed & Kris Sherwood
CropCircleAnswers.com
All Rights Reserved
Please make any inquiries to:
millennium9@earthlink.net