Old Flint Barn
Norfolk, England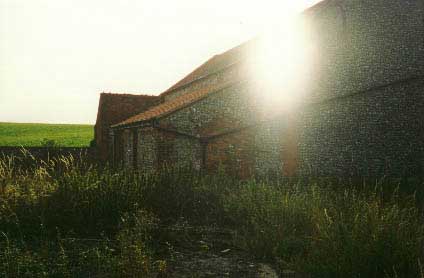 2a

Photo © 1999 Ed Sherwood/Millennium Research
July 25th 1999
Participants: Ed Sherwood & Kelvin Curnow

Above, is what appears to be a brilliant 'white' subtle energy 'luminosity'
photographed near the wall of an old flint barn.

The photograph was taken by Ed Sherwood, using an automatic 35mm camera,
while shooting a 'two step' panorama of the barn. The luminosity was not seen at the time.

Photo 2a was the first shot in the 'panoramic' sequence, and shows the luminosity
(casting no 'visible' light on its surroundings), perhaps a few feet off the ground,
and from the camera.




2b

Photo © 1999 Ed Sherwood/Millennium Research

Photo 2b is the second shot of the sequence showing the luminosity remaining in roughly
the same position as Ed moved the camera to the right.

Both photographs were taken in the middle of the afternoon (approximately 3pm GMT).
The sky was bright but mostly overcast, and the sun was high
(reflected in the shallowness of the barn shadow on the weed covered barn yard).

FURTHER OBSERVATIONS

As a teenager Ed lived a half a mile from the old flint barn and frequently visited it
alone and with friends. On many occasions he reported that there was
a particular spot in one corner of what use to be a walled courtyard
(the wall doesn't exist today), where a large water barrel sat, that 'felt' particularly 'spooky'.
Ed called it a 'window' as a teenager: a metaphorical term for an area where 'Supernatural'
phenomena could be witnessed to 'enter' and 'depart' the physical world. Interestingly,
the luminosity was photographed within feet of this very spot, briefly visited one afternoon
sixteen years later!

Ed Sherwood has witnessed a brilliant 'white' ('etheric') subtle energy luminosity
(identical to the one photographed) almost daily since July 22nd 1992.
* * *
Copyright ă 2001-2009 Ed & Kris Sherwood
CropCircleAnswers.com
All Rights Reserved
Please make any inquiries to:
millennium9@earthlink.net