Wedding Reception
Beverly Hills, California, USA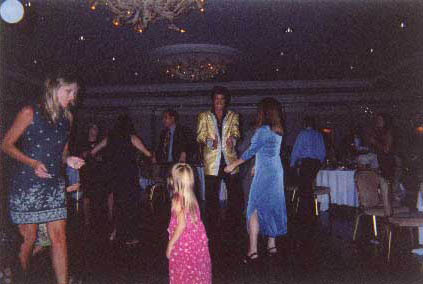 6

Photo © 2000 Debbie Di Giorgio

August 2000
Orb photographed at the wedding reception of Debbie Di Giorgio
and Dr. Marv Cohen.
A bright Ďorbí can be seen in the upper left corner of photo, as Krisí daughter, Lori Matthews,
dances with an Elvis Impersonator hired for the wedding party of Krisí friend Debbie.
The photo was taken by Debbie using a disposable 35mm flash camera.
Kris, who had just returned from a Crop Circle research trip to England,
was standing to the left of the photographer, just out of the picture.
* * *
Copyright " 2001-2009 Ed & Kris Sherwood
CropCircleAnswers.com
All Rights Reserved
Please make any inquiries to:
millennium9@earthlink.net