Moon Tipi
California , USA
Psychic Photography Experiment - 1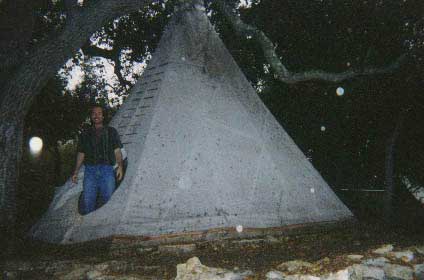 9

Photo © 1998 Kris Sherwood/Millennium Research

September 26th 1998
Participants: Ed & Kris Sherwood

Above, is an example of some of the light balls photographed
at a mountain 'leyline vortex' retreat called the 'Moon Tipi'.

The photograph was taken by Kris Sherwood using an automatic 35mm camera
moments after Ed said the tipi was positioned on a subtle energy vortex.

Photo 9 shows Ed standing at the tipi with light balls clustering nearby
including a 'fully materialized' luminosity with 'motion blur'.

This was the first time Ed and Kris had recorded light balls
from the site of a leyline vortex in the U.S., an occasion made particularly
special since they were also staying at the tipi celebrating
their third wedding anniversary.

Although Ed sees this type of luminosity on a daily basis,
neither he or Kris saw the light balls at the time.
* * *
Copyright ã 2001-2009 Ed & Kris Sherwood
CropCircleAnswers.com
All Rights Reserved
Please make any inquiries to:
millennium9@earthlink.net