Geomagnetic Field:



From N3kl.org
Solar activity has been observed to be involved in the formation of atmospheric plasma, and non-manmade Crop Circle co-creation. The articles below contain information and evidence in support of this:

'Vacuum Domain' (Plasma Physics) 'Updated'

Deus ex Sol

The Primary and Secondary Source of Non-manmade Crop Circle Creation
---
---
Major Interview
on Crop Circles
---


Join us and others worldwide for a weekly Sunday
Earth Healing and Peace Meditation

---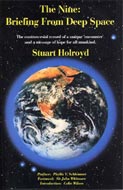 The long awaited reprinting of 'The Nine: Briefings From Deep Space'
By Stuart Holroyd (Originally published as Briefing for the Landing on Planet Earth - Essential Briefings From Deep Space) is now available
from The Only Planet of Choice website.
---
A "Word" about Crop Circles and Sound
Evidence of a case of plagiarism
---
Help Support the Research with a Donation:

We gratefully accept any donations to help support the dissemination of our research, including the cost of maintaining this site.
---